3-2-2. Techniques of Low Pose
The correct low pose makes every technique changeful and firm, supported by its lowness. Thus, you can find nothing you cannot accomplish whenever you intend. This is verily that "by doing nothing along <Do>, all things will be in order."1) You can obtain these advantages keep your correct pose to have everything of yourself on its proper position along the way of Haneul. What are the advantages?
Bend your knees and lower your downer stomach close to the earth. Then you can get the firm advantage of Earth(Tang). In the meantime, you can jump up, which is the intimacy to heaven. Thus, you can get the changeful advantage of Heaven(Haneul) at the same time.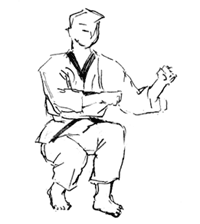 If you keep your pose low you can avoid your opponent's attack at upper part so that you can concentrate yourself on those at downer part. So your defense is easy.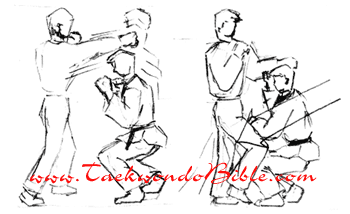 In addition, your low pose will make you easy to attack the blind points between the chest and knees of the opponent who is standing high. So your attack is easy.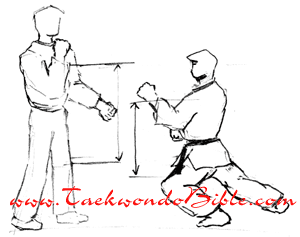 Yours sudden drop of your pose in close front of your opponent will make him feel as if you move away. So it is a natural deception.2)
In addition, your low pose will give you firm center so that you will be well balanced, thus you will get more power. Try to stand in low pose of lowering your waist and raising your shoulder. How hard it is. This is your power you can feel. Lowering your pose will make you feel your power.
And your low pose shortens the length of your top and bottom and sharpens your weapon you use to attack the opponent. The sharper a knife is the better it can cut things and the more sharp-pointed an awl is the better it can pierce holes. You get this sharpness when you lower your pose.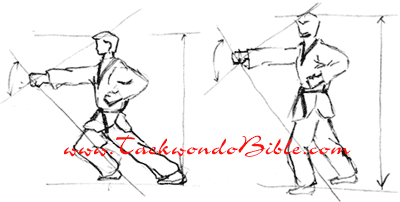 And, your low pose prevents your opponent from taking you down easily. Every technique of taking opponent down is demolishing his balance, for which the efficient method is to use the principle of leverage. The principle of leverage is based on the circular movement. Your low pose will shorten the distance of your center and the earth so that his available leverage will also be shorten, thus he cannot take you down easily.
And, even if he might take you down your low center will save injures, and in addition, it will enable you to throw him away, falling. When he takes you down, if you were standing in low pose, your fall will be short. At the same time, since your center was lower than his first, you can push your center under his. So you can throw him away easily.
The Taekwondo man, who knows them all, is not elated yet controls his whole life with humility.
---
<footnotes>
1) Lao Tsu, Tao Te Ching, 3. 爲也爲無爲則無不治.
2) Concerned with this 'deception', refer to Chapter, "5-4. Saram in Spirit".