3-7. Haneul of Mind
Discussing its mind, say it is Haneul to erase all fear in easy concentration on your opponent. When Chuang Tsu was asked "May I ask what the fasting of the mind is?" he answered; "Confucious said, "Make your will one! Don't listen with your ears, listen with your mind. No, don't listen with your mind, but listen with your spirit. Listening stops with the ears, the mind stops with recognition, but spirit is empty and waits on all things. The <Do> gathers in emptiness alone. Emptiness is the fasting of the mind."1) This 'fasting of the mind' is the ultimate mental attitude you should get in right way facing a task, and if you empty your mind you can empty fear, too.2)
How can you erase fear in comfortable concentration on your opponent? It is possible only with right and hard training to do it. This is the first method, and the most important one. Here, the right and hard training means the hardest yet not injuring training. For this hard yet not injuring training you should begin with easy movement to harder things, and finish with easy one. In additon to that you should know exact points of each step, and focus on them in training. Although the difference between exact and inexact training may seem little the gulf between them is great in what you do actually; exact training is very much harder than inexact one.
To erase fear is to be full of conviction. It is not what you can force yourself. "Let me remark upon a prevailed fault of the not-fearing mind. It is the confusion between the conviction that you can surpass your opponent and the obsession that you have to surpass him. A conviction differs from an obsession. An obsession oppresses your mind, because it is merely a camouflaged fear whereas a conviction just makes your mind comfortable and free with no restriction. It is the very emptied fullness."(Ch.32)
Therefore, you cannot erase fear forcing your mind. If you try your will suffer from an obsession only. It is just like that, if you force yourself to make smooth motion without enough training, your effort rather will stiffen another big part of your body. Although this problem of your mind will be solved actually in the closed space of mind itself, you should try to solve it in the open possibility to entire life. It is just training. In training, "only when you succeeded in the complete erasion of your fear it is possible to do Taekwondo in the complete union of you and the world."(Ch.32)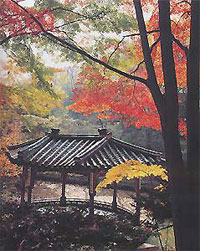 <To erase fear is to be full of conviction. It is not what you can force yourself.>
The hardest training is one that others avoid, so one that is they cannot try in daily life. With success in what others cannot try you can build your confidence. Only this confidence can remove fear in truth. To conquer your fear in success of what others cannot try, this is the second method to follow the way of Haneul in mind.
Thirdly, you can remove giving up your life. Every fear, after all, comes from the attachment to life. So you can transcend to inside of life abandoning that attachment to life. Yet you should keep rational basis under it so that you can return to reality over transcendence. The rationality is central factor in the transcendence to inside of life. It means, you should keep it at the beginning and the end of transcendence.
What giving up life means is said by buddhists of abandoning attachment. When they say "all things are devoid of selfhood, devoid of personality, devoid of entity,and devoid of separate individuality"3) they refer to it. Since I cannot find even my self in things I cannot get what attach me, accordingly any attachment is in vain. Hence "the True Man of ancient times knew nothing of loving life, knew nothing of hating death. He emerged without delight; he went back in without a fuss. He came briskly, he went briskly, and that was all. He didn't forget where he began; he didn't try to find out where he would end."4)
Like this, it is not only most difficult to remove fear but also most essential in mind training, at the same time. Moreover, it is the completion of Taekwondo spirit. It can be obtained in truth only in the harmony of the entire Taekwondo; so, in the harmony of inside and outside of Taekwondo. That's why it belongs to the way of Haneul. Hence "therefore, Taekwondo man never fear nor worry anything, yet just reflect deliberately, plan, get harmonized with and overcome it."(Ch.32)
---
<footnotes>
1) Chuang Tsu, ÞÌ, ìÑÊàá¦, "üÞèØ: ÊòÙýãýî±. ñêÒùèØ: å´ìéò¤,Ùéôéñýì¤ì¼ì»ôéñýì¤ãý,Ùéôéñýì¤ãýì»ôéñýì¤Ñ¨! ì¼ò­åÚôé,ãýò­åÚݬ.Ѩå¥íº,úÈì»ÓâÚªíºå¥. êæÔ³ó¢úÈ. úÈíº,ãýî±å¥."
2) ¸¶À½À¸·Î µèÁö ¾Ê°í ±â(Ѩ)·Î µè´Â´Ù´Â °ÍÀ» ÇÊÀÚ´Â, »ç¹°ÀÇ º¯È­¸¦ ÀÖ´Â ±×´ë·Î ¹Þ¾ÆµéÀδٴ °ÍÀ¸·Î Çؼ®ÇÑ´Ù. ±×·¸´Ù¸é ÀÌ´Â °ð Æí¾ÈÇÏ°Ô »ó´ë¿¡°Ô ÁýÁßÇÏ´Â °Í°ú °°Àº °Í°ú ´Ù¸¦ ¹Ù°¡ ¾ø´Ù.
3) Diamond Sutra, 17f. ãÀͺ ÝÖàâìéôîÛö Ùí䲡¤ÙíìÑ¡¤Ùíñëß桤Ùíáøíº.
4) Chuang Tsu, ´ëÁ¾»ç 1, ͯñýòØìÑ,Üôò±àãßæ,Üôò±äÂÞÝ.,ÐìõóÝÕ ,ÐììýÝÕËå.**[ + + +éâ]æÔì»èÙ,**[ + + +éâ]æÔì»ÕÎì»ì«ëø. ÝÕØÎÐìá¶ã·,ÝÕÏ´Ðìá¶ðû.
---