4-1. Tang of Samjae
Tang in Taekwondo refers to the distinguished technique. On the other hand, that formulated in the principle of Taekwondo(i.e. in TAEKWONDO) refers to having your opponent opposed to the world with harmonizing yourself in it.(Ch.11) We can recognize this in that the way of Tang, among those of Samjae that expresses Ilgiyae, represents nothing but Taekwondo as martial art.
It has been said: ¡°Haneul way claims emptiness while Tang way firmness, so emptiness has no difference while firmness has no sameness in it.¡± Thus we can know that the way of Haneul is the One beyond distinction while that of Tang is distinguishable. That is to say, what 'Tang' meant originally was distinguished object from the first.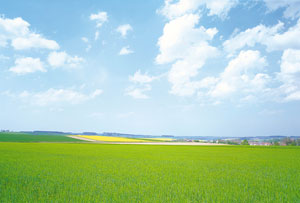 <what 'Tang' meant originally was distinguished object from the first.>
The entire truth beyond distinction, although you might be able to understand it, you cannot follow. Thus, the distinguishing as expediency to follow the one truth is the way Sages taught us. Therefore, I Ching also said: ¡°Anciently, when the sages made the <Yeok>, it was with the design that (its figures) should be in conformity with the principles underlying the natures (of men and things), and the ordinances (for them) appointed (by Heaven). With this view they exhibited (in them) the way of heaven, calling (the lines) yin and yang: the way of earth, calling (them) the weak (or soft) and the strong (or hard); and the way of men, under the names of benevolence and righteousness.¡±2)
Observing this you as a Taekwondo man, in the course of all your distinctions, also should not forget the transdistinctive reality that is its foundation.
---
<footnotes>
1) ¡¸¼ÂÀ» ¸ðÀº ±Û(üåß²Ìè)¡¹, 3 ß²ØÍ: ô¸Ô³ ñ«úÈ ò¢Ô³ ñ«ãù, úÈÙíÝÕÔÒ ãùÙíÜôì¶.
2) APPENDIX V, Chapter 2, 4: à®íºá¡ìÑñýíÂæ¶å¥, íâì¤â÷àõÙ¤ñý×â. ãÀì¤í¡ô¸ñýÔ³èØëäæ¨åÕ, í¡ò¢ñýÔ³èØêõæ¨Ë§, í¡ìÑñýÔ³èØìÒæ¨ëù.