5-2. Empty Mind
Taekwondo is a kind of martial arts, which is the <Do> focused on what man intends to do.
Mencius emphasized that Heaven's favourable weather is less important than Earth's advantageous terrain, and Earth's advantageous terrain is less important than human unity.1) Hence he said ¡°It is not by boundaries that the people are confined, it is not by difficult terrain that a state is rendered secure, and it is not by superiority of arms that the Empire is kept in awe.¡±2) The center of human unity is the man's mind, for "Intrinsically the mind is root of everything".3) Like this, that man is its center is all the same not only in politics but also in TAEKWONDO as the principle of motion
What, however, can be the Saram in man's motion? I mean, what of him identifies the very self of his? It is neither his physical body nor his consciousness that identifies it. It is what he intends to do that determines what he is temporarily. By the way, this depends on his mind and physical body. This is, however, only temporary, so that it changes moment by moment. Thus, ¡°it is impossible to retain past mind, impossible to hold on to present mind, and impossible to grasp future mind.¡±4) Therefore, there is nothing like the substance of his.
As there is no substance of his it is vacant. Saying he has no substance it means there is no substance of what he intends to do. Because there is no substance of what he intends to do, neither can there be a boundary of that intention. Therefore, abandoning what you intend to do, you should be able to find in vacancy what you want to do, so that you can preserve what you are as you are. By the way there is your intending on the other. The mind and body, however, on which the will depends, has no clear substance, so it is empty. After all, both your intending and what you intend to do are also empty ultimately.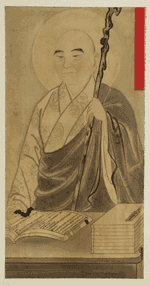 <The Great master Won Hyo: He was a Buddhist monk in Shilla dynasty>
In this way, while Man(Saram) is of honor on one hand the Man is empty on the other. TAEKWONDO conceives the both truths in oneness sublimating it into technique. This is Seong Sonk Ilyeo(The Oneness of divinity and mundanity), which is also same as doing both of picturing and erasing yourself, and it is forming the one intention of both Mu Nyom Mu Sang and suppressing the opponent down, too. Enlarging this to the entire realm of life it becomes "the transcendence to inside of life."(Ch.60) Concerned with technique, it would be easier for you to hurt the opponent as you don't intend to hurt him, according to this truth. This is the minding skill of Pointing-way-of-legendary-hermit. Another expression of the same essence can be said "the way of Saram in Saram".
It can be said this inner mind is the One mind(Il Sim) as the great master Won Hyo presented. He said; "The substance of buddhistics(ÝÖàõ) is the One mind. The nature of the One mind is beyond any kind of restriction. Since it is beyond every kinds of restriction it belongs to nothing. Because it belongs to nothing there is no other thing that it belongs to either. Because of this fact, discussing matters of mind, it is neither cause nor effect; it is neither divine nor mundane; neither man-made nor true; neither appearance nor hidden. Discussing it in the relations to links(nidanas), mind can be both appearance and hidden, both man-made and true, and also both cause and effect." 5) There is nothing different from the mind of Taekwondo except for its used terms.
This way, despite preservation of what you intend to do, if you achieve this mind free from your attachment, it is the unified mind, namely, the One mind of Taekwondo. As mind belongs to nothing there is no other thing that it belongs to either, so although you have nothing you intend to do you have nothing you cannot do either. This is the absolute mind you as a Taekwondo man accomplish in the Ilgiyae, namely the One mind.
---
<footnotes>
1) MZ04010001: Øëí­èØ, "ô¸ãÁÜôåýò¢××, ò¢××ÜôåýìÑûú.
2) Mencius, Book II, Part B, 1: ͺèØ, æ´ÚÅÜôì¤Üæ˲ñýÍ£, ͳÏÐÜôì¤ß£Í¬ñýúÏ, êÎô¸ù»Üôì¤Ü²úÔñý××.
3)¡¸ô¸Ý¬Ì衹, ÜâãýÜâ.
4) Diamond Sutra 18d. ΦËÛãýÜôʦÔð úÞî¤ãýÜôʦÔð Ú±ÕÎãýÜôʦÔð.
5) êªüû, æîÚéðóé©, ùÛÝÖ 1-538 ñé-ù»: æÔÝÖàõñýô÷ïáãÀìéãý ìéãýñýàõêÀ×îð³Ü« êÀ×îð³Ü«ÍºÔ´Ùíá¶Ó× Ùíá¶Ó×ͺÙíá¶ÝÕÓ× á¶ì¤ö¦ãýÖå ãýÞªì×ÞªÍýÞªòØÞªáÔÞªìÑÞªÛöÞªÑÃÞªÜÑ åýÐìå³æÞÖå ãýêÓÑÃêÓÜÑíÂÛöíÂìÑêÓáÔêÓòØíÂìÑíÂÍý.