6-7-2. Etiquette
Temperance is not only the key factor of technique but also that of etiquette.1)
Confucius said, "To subdue one's self and return to propriety, is perfect virtue. If a man can for one day subdue himself and return to propriety, all under heaven will ascribe perfect virtue to him."2) It implicates the essence of self-discipline is also the temperance.
Temperance is same with the Great Mean, which refers to avoiding its extremities with appropriate balance. Therefore, temperance is not asceticism. Asceticism is to press down what you are endowed with inherently, so this also, if excessive, can collapse your balance ruining you. This sort of excessive asceticism is nothing but a good appearance with its lost essence of temperance.
Your Taekwondo come to be weighty with temperance achieved. It is said to be 'weighty' because once it moves, though it seldom moves, it has big power. If you force yourself, however, to get this weightiness your Taekwondo will be rather stiffened, which is because natural weightiness is temperance while the weightiness forced just results in slowness.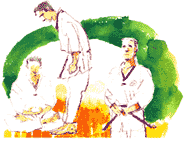 Therefore, also in your conversation with another person, if you express your opinion in a temperate dialogue and gesture, your behavior will be natural, moreover, with the implicit power to persuade him. If someone, however, tries to imitate it with artificial weightiness he will be merely hypocritically authoritative only, yet will fail to be persuasive and impressive. Likewise, also in your Kyorugi of Taekwondo with your opponent, if you perform only necessary motions waiting for his blind points he will recognize you are a formidable competitor to surpass even when you don't move, whereas if you force yourself to imitate that weightiness you will instead be slower to cope with his offense, so that he will find easy to control over you. When Chuang Tzu says: "Have no gate, no opening, but make oneness your house and live with what cannot be avoided. Then you will be close to <Do>"3) he means the same thing.
---
<footnotes>
1) To say differently, etiquette is verily the method of temperance.
2) LY1201 顔淵問仁. 子曰, "克己復禮爲仁. 一日克己復禮, 天下歸仁焉.
3) Chuang Tzu, 인간세 1, 无門无毒,一宅而寓於不得已,則幾矣.