7-10-5. Kang-Yu and Saram
And following the way of Saram enables you to control the Kang-gi and Yu-gi. The way of Saram is the main key of utilizing Kang-gi and Yu-gi, namely, its subjective condition. For what?
The way of Saram has three aspects, which again generates three forms. They are not losing what you are as you are, returning to your central pose, and preserving what you intend to do. They can be regarded as three ways of Samjae in Saram, but rather they are based on that "one Haneul has one figure; one Tang has two figures; and one Saram has three figures."1)
Firstly, you must not lose what you are as you are. If you can keep what you are in your motion you can maintain your most mastered identity, by which you can keep your mind and body on its appropriate place that needs them when necessary, and thus, you can empty them easily. That is, you can have concentration and following adequate to each, which is to control techniques of Kang-Yu.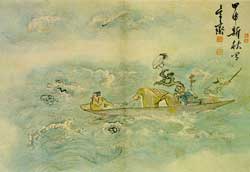 <You should concentrate your power sometimes and follow the main trend another times, like sailing: A Korean Traditional Painting>
Secondly, you should lower your lower abdomen with your arms and legs bent close. This is the pose of cowering. On the other hand, you have to return to your central pose in change. This is attracting all of your movements to the center of your pose. This is the cowering in cowering, which is the condition of Kang-gi. In order to follow what the opponent intends to do you should be ready all the way to follow it. Therefore you have to flow from the ready pose along his motions back to the ready pose again. This is the essence of Yu-gi.
Thirdly, you must preserve what you intend to do. As you preserve your objective to suppress the opponent down protecting yourself you come to seek the target to concentrate your power and technique even in obedient following to him. Thus Yu-gi changes to Kang-gi. And on the other hand, if you face his strong resistance without collapse in spite of your concentration of your power you should move to follow him along the change again. This way Kang-gi changes to Yu-gi.
What is the completion of this control of Kang-Yu? It is verily <Oneness of Haneul and Tang in Saram>.
---
<footnotes>
1) 「天符經」, The one Heaven is one, the one Earth is two, and the one Man is three.(天一一地一二人一三)