8-5. Mind in Technique
Before you can accomplish your technique you should build your Taekwondo mind. This is also composed of three steps along the way of Samjae. That is, you feel indignation, you observe your opponent and you should erase your fear. This is the order of Saram, Tang and Haneul.
The technique of Taekwondo followed the order from Haneul to Tang and then to Saram. Yet the order of mind is contrary. Why? "The <Do> of the superior man may be compared to what takes place in traveling, when to go to a distance we must first traverse the space that is near, and in ascending a height, when we must begin from the lower ground."1) Therefore, while the technique of Taekwondo follows follows the order Haneul, Tang and Saram, the mind of Taekwondo flows along the order of Saram, Tang and Haneul, which is contrary to the former. For the <Do> of the superior man is like TAEKWONDO and so, it begins from its low and near place. Thus the direction of training is contrary to that of using technique.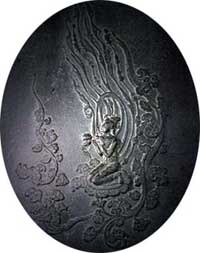 <Everything of man leads to the problem of mind>
Let me discuss its details. First, one feels indignation because he recognizes injustice. One observes his opponent because he intends to deceive him. And one erases his fear because he wants to concentrate his mind in comtemplation. Why do you need these minds?
You can recognize injustice along the way of Saram because you distinguish what is wrong and what is right, trying not to lose your opinion. If you don't feel some indignation like this way you cannot begin your mind to correct the faults. You come to observe the opponent's mind along the way of Tang because your just indignation must not stop only in your mind. The injustice is in the world and the world move along its own rules. Without knowledges about these rules you cannot interact with it. Therefore no observation will give you failure. You observe it because you want how to correct it, thus you will come to get distinction. Without this calm distinction you just hurry up emotionally but to fail correction actually. You erase your fear along the way of Haneul becase you have to go forth by yourself. It will be nonsensical if you don't correct what is wrong, although you know what it and how to correct it.
Anything leads to the problem of your own mind.
---
<footnotes>
1) 『中庸』, 15-01 君子之道 如行遠必自邇 如登高必自卑.