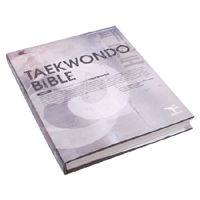 <TaekwondoBible, Vol.1>(The Philosophical Principles of TAEKWONDO) was published in August, 2006. It contains the texts of PPT translated and polished by American, with many drawings about techniques and basic motions of TKD.
For the congratulation of its publication, we are selling only 1000 copies with authors signature and unique serial numbers(from 1 to 1000). And each number of the copies is registered and announced to all in this homepage. If you want to order or reserve some, leave message here(Reservation & Order). You should leave the your email address, with your post address or phone number. Of course, you can buy several copies at once, but no one can reserve more than one copy with serial number.(And, refer to the notice of the reservation board)
If you want to get the copy of the serial number which is already chosen by another, you should negotiate with him, not us. If we find some problems in purchasing the copy(for example, we cannot contact you or you don't pay or something), we will announce your reservation is invalid.
Price: $79.95