Chapter 27.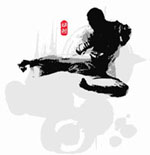 Surpassing Whole with Control over Just A Part
"What is the principle of Taekwondo?"
"Just Samjae and Kang-Yu."

When you search your opponent's vital points in Taekwnodo you can find them just where you touch him, thus your attack, following the flowing movement of your hand or foot, avoids the hard parts yet converges in the soft spots giving up the fast motion yet catching the slow one, and sometimes striking a projecting part while sometimes thrusting a sunk spot, under the control by the will of doing nothing, through which you can reach his center before anyone's recognition to catch his vitality.
Therefore, the attack of Taekwondo moves along the way of Sky, Earth and Man up to the center of the opponent passing through his defense. This is possible because you search his center with your mind not attracted by his trivial motion, you get to easy one through close vital points not stuck to a far center, and you suppress down his vital center following obediently every change of distance, tide, speed and balance, not attached to the center in his appearance.
Like this, as the opponent's center is extended close to your reach, even if he moves fast, his center moves slow. And even if he makes quick motions of arms and legs to bring his vital point with ease far from you his center of vitality, which runs from a vital point to another, moves still slow as the target point of Taekwondo's attack. For the whole moves slower than a part.
Therefore, your quick attack of Taekwondo catches the opponent's center as you follow its movement with your mind. Here, the attacker should hit it with your all weights. In this manner his closest center is his empty part and is his weakest point. The weakest point can be his center although it is on a branch, for you can destroy all of his with the control over that point. Interrelation and interaction between your and his motions determine the centers of both and the strongest and the weakest points, accordingly, the best target of your attack should move and change moment by moment. In flow of the change you should keep everything of yours in its own proper position.