Chapter 31.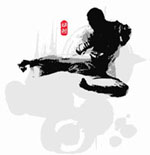 Knowing the Sameness of Mind and Body
"What's the reason that my hard training doesn't improve my technique?"
"Because you just train your body yet not your mind."

In Taekwondo there are three kinds of incomplete control that you can get over your opponent; the first is that you get the control only with power yet not with skill; the second is that you get the control with power and skill yet not with spirit; the third is that you get the control also with spirit yet failed in morality. If you fail to have him follow you with morality he will surely turn his back against you at the end; if you fail to have him yield to you with higher spirit he will surely prepare for another challenge; and if you fail to control over him with skill you will be controlled by him soon later.
The main reason to all those failures is that you fail to have your mind in order, then you thus fail to arrange everything of your life in order. Accordingly, since you cannot manage your own life in accordance with <Do> you cannot surpass your opponent with morality, since you cannot arrange both your mind and your body in a harmony you cannot surpass him with spirit, and since you don't think with your whole, owing to division of mind and body, you cannot surpass him with skill.
All of them converge into one, which is the problem of mind use. This is why Taekwondo man is actually more worried about mind controlling than physical motions although he seems to devote himself only to latter. Thus they say the essence of Taekwondo study is controlling mind. This is due to that when you arrange and concentrate your mind your breath naturally gets in order, along which motions go under control.
Originally the mind and the body belong to one, so, the body depends on its mind and the mind cannot be without its body. The body without its mind is nothing but a big lump of meat while the mind without its body is mere an illusion. Therefore no one has difficulty in getting control over the opponent who is careless of the attacks at him, and there is no one either who cares or fears the opponent's anger whose body is tied.
A man who has reached the ultimate of Taekwondo doesn't have even least doubt about this fact. For he intimately experiences in transcendentally hard training that his thought is directly his motion and his motion is nothing but his thought, on which he moves based only. When he obtains the oneness of the whole his word can move other's mind without any rhetorical device, his behavior can lead others without any self-exaggeration and his pose leaves nothing to be desired to surpass the opponent's spirit without appeal to skill. Only an unwise man, with attachment to luxurious rhetoric, worries that he might fail to persuade others and, with attachment to technique, worries he might fail to surpass his opponent. This is due to that the trivial avarice in his mind sticks unconsciously to the wrong distinction of mind and body. What is required to overcome it is to stop the immoderate attachment emptying the mind with acceptance.
In this way the principle of controlling mind and body can be summed up in one: you should have your emptiness and fullness in one and do both of erasing and picturing yourself at a time.