When you as a Taekwondo man have your opponent opposed to the world and you are harmonized in it, your will move him and your body move the world. Thus, when you punch or kick him your body, as a part of the world, controls him. How is it possible that you are harmonized in the contrary relationship between his body and your weapon? It is possible because it depends on the same principle that, when you beat a drum, although the drumstick strikes the drum, the whole of both makes harmonious sound.
The characteristics of all the perfect and skilled motions of Taekwondo and of its attacks and defenses are not in its infinite powerfulness and sharpness but in its capacity for controlling over the opponent properly and for rearranging everything to its appropriate position. Also can this be understood in relations to the way of Haneul(Heaven) inside and outside Taekwondo, and its another name is "the Great Mean".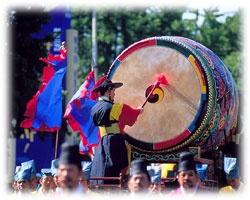 Beating a drum is nothing but having a drumstick hit a drum, but since this is also related to the principle that enables a good motion to make harmonious use of power in every adequate pose, it will be hard to beat it and even eager actions cannot make good sound unless you obey this right principle. How much more must it the case with motions of Taekwondo that should control over the changeful opponent? If you attack with excessive force you may destroy yourself as well, and if you fail to convert your opponent's force into yours you both will tremble with shock.
Because of these reasons everybody that does Taekwondo endeavors to control himself earlier than to control another, endeavors to restrain himself earlier than to control over another, and makes efforts to overcome himself earlier than to overcome another. Since the value conception of Taekwondo is to take a positive view of life you should not complain that the world does not help you but should you change yourself for the world and for your success, without which no one can get the ultimate TAEKWONDO. On the way of self-perfection there is the <Do> of the great mean, which does not show itself outward, thus you who follows it in Taekwondo will never be controlled over by your opponent even when you cannot beat him down. It is verily in the coexistence of you and him that you can find the eternal victory of Taekwondo as unseen.