Chapter 40.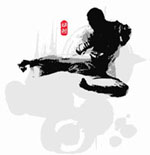 Offence and Defence Be Simple
"Why do you emphasize its oneness?"
"Because, not knowing its oneness, you cannot use techniques actually."

You contract your body when you block the opponent's attack and spread it when you hit him. The contracting and spreading is a natural simple motion no less than it composes every usual action. But you can find the most effective way of attack and defense in it. And you approach him, then just rise up and sink down, or just turn round and round. These bending, stretching and turning are also no less natural simple motions than necessary elements of all actions. Because of this simpleness his attack cannot reach you and he rather ruins himself. In this manner, the good motions of Taekwondo does not show themselves as something special and the principles of the attack and the defense are same as well as simple in them, so any of them goes into another. Then what is it that makes Taekwondo different from what is not Taekwondo?
The answer can be summed up in a sentence: a good motion of Taekwondo differs from another action of daily life only in that it includes nothing unnecessary for your life. In another words, the simple principle of Taekwondo required for attack and defense is that you should make only the most necessary movements. Accordingly, a right motion of Taekwondo changes from a movement to another with nothing excrescent at all between them. Then every part of yours will be kept in its proper place. And you can adapt yourself perfectly to everything.
Every skill of Taekwondo is simple in its essence because it is composed of only necessary movements. Therefore it is most desirable to get the simplicity of a skill of attack and defense in Taekwondo. Regardless of whether you use complex or simple technique to control over your opponent you will get the same result if you win. The complex, thus difficult one is required when you cannot surpass him only with simple one. In case you use a complex technique instead of a simple one which can be also useful enough it would not mean a virtuous technique any more but rather than a bad one that exhausts your power with difficulty. The ripeness of Taekwondo, its profound beauty is to be embodied when you accomplish the simplicity of a compact motion completely in contact with <Do> and it is to be realized when you harmonize a simple principle with a brilliant technique in a complex motion.
This motion of Taekwondo is nothing more rather than an action of daily life, which has been repeated and skilled in the long process, so, everything unnecessary is to disappear worn out. Even a most harsh stone must get sleek if ground for a long time. Taekwondo forms this clean motion through the long training with lots of repetition and provide the calm mind of usual life through self-discipline and temperance of long time.