Chapter 44.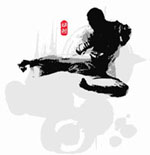 Being Able to Discard Weapon
Let me tell you a truth. Who knows the life is a lethal weapon?
Your weapon is a part of yourself that can attack the opponent most easily and that can defend his attack best. Otherwise, your weapon stops being a weapon right away. Therefore, the weapon should be able to be discarded whenever required. You should not attach yourself to it. It is wiser to control over your opponent with discarding a sword than to fail with attachment to it, and more desirable to keep your life instead of an arm than to keep the arm at the cost of your life.
Not only a sword and a spear or a hand and a foot but everything of Taekwondo can be a weapon, so it is the very right form of Taekwondo to follow the right way with attachment to nothing at all, and this is the great freedom of no form. This is same as what Lao-tzu and Chuang-tzu have taught us, and on the other hand, since it can be up to the joy of passionless Nirvana(

) with no attachment it is also same as what Buddha has taught us. Also is this both an aspect and the whole of Taekwondo. When you are attached to no weapon like this you can be independent of any. And then, you can gain all the weapons at last. You can possess all only by means of non-possession(Mu-soyu,

).
Thus, the great freedom that does not cling to a weapon is also one of a weapon in Taekwondo that is not a weapon, and the living itself is a weapon, too. Therefore, the perfect weapon should not be out of your life yet in your life, in your mind, and ultimately in yourself. Taekwondo itself is always a perfect weapon whenever necessary, and when you completely make yourself a Taekwondo you also become a perfect weapon by yourself.