Chapter 61.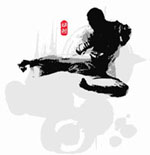 Beginning Training by Following Patterns
A good beginning means a half done.
But once begun, a good ending is half left.
Everyone is different from one another. Each one has different body, different habit, and different motion. And he keeps different living and his life is different from another's. But basic process of training Taekwondo is same for all. Why is it that all different people begin their training of Taekwondo along same process? Generally speaking, there is Man in the world at first who distinguishes everything along what he intends while the non-distinguished oneness is the way how the world exists by itself, and it is on its border that man's discerning mind works. Man knows everything is different from one another and then knows that everything is same, while everything has its sameness at first then followed by its difference.
It is natural that the right training of Taekwondo is not contrary to the principle of everything. Thus, just as babies when born right now are same yet become more and more different as they get older, so do all men begin from their sameness in Taekwondo training and then they train themselves along the differences. In this entire process, training of Taekwondo is not learning another's motions from beginning to end but seeking TAEKWONDO "following" the formality. Therefore, learning Taekwondo is not imitating another but creating your own. You imitate your senior's motion yet should not everything of his. In every motion and in the entire flow of motions you should think with your brain and heart, with your action and with your entirety. Therefore, although you learn from your master and seniors, it is no more than to borrow the antecedent experiences and wisdom to broaden your thought. Since you know both that you are same as others and that you are different from them you can also know what you can learn and what you have to learn. And you should do it. This is the following.
This process of training begins in a Taekwondo dojang at first and then spreads out to all over the life. And you should follow those who are better than you at first, and then also learn from those who are worse than you. Taekwondo never loses its essence in the creation by following while it always has vivid life in concrete forms at the same time. It is not that you should accept Taekwondo completely but that you should change yourself to a figure of Taekwondo deleting all your faults to stand in your perfect figure. Every change can be what it is because it includes what does not change.