Chapter 64.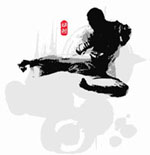 Oneness and Nothingness Finish Together with Each Other(

)
"Please, explain me some more in detail."
... <A calm smile>
Taekwondo is like conversation. Its basic motion is to a word of a language what its poomsae is to a sentence, and what an actual kyorugi is to a dialogue. By the way, it has a difference that the dialogue, the story made of Taekwondo cannot include a falsity and that the dialogue has no distinction yet of question and answer that are in oneness. How is it possible?
As it was said at the beginning, Taekwondo is the skill of killing man in its essence, which comes from the boundary between life and death, i.e. the border of daily life. One main essential feature that constitutes Taekwondo's essence is that it stands on the opposition, particularly, on the very extreme confrontation of existence. This extremity of confrontation of existence brings us to the place where life meets death face to face. The meeting place of life and death, here you can see everything gather on a spot in a moment, and thus you can see the evident truth. Therefore, Taekwondo reveals a truth of life to us. It is based on the same reason that you can see obviously who is truly benevolent with more ease when everything is scarce than when everything is much and that you can know in truth who has true fortitude to protect others when in serious danger rather than when safe. Therefore every falsity cannot help disappearing in the extreme figure of Taekwondo.
How can there be falsity? There can be falsity because thought differs from the world, word differs from thing and what one intends differs from what he shows. The distinctions that produce all of them also generate falsity.
However, the dialogue of Taekwondo is itself a reality. An intention shows itself as nothing but intention, and the entire sequence of all is immediately in one. That is, there is no "distinction", which is the house falsity lives in. Taekwondo cannot be expressed in words because its truth beyond distinctions, for words can be only based on distinctions over things to name them. Instead, the truth of Taekwondo that cannot be expressed in words is to be delivered from mind to mind.
When you go over the distinction between this and that you can ruin the distinction between your mind and the opponent's. Etiquette and human equality is to be harmonized among these open minds. And the relation among open minds is extended to inside of Taekwondo, in every aspect of our life. Therefore, those who do not respect their parents in truth cannot reach the ultimate step of Taekwondo, those who do not respect their master at all in truth can never begin learning Taekwondo, those who do not love their friends can never make good use of Taekwondo, those who do not serve their forefathers can never know the value of Taekwondo, and those who do not love their countries can never find themselves in Taekwondo.
What is it that is said in all of these? It is to overcome the illusion generated from intention and distinction, rather transcending to inside of life, and in this way, it means that there is ultimately no difference between distinction and nondistinction, and between intending something and following changes of the nature. You as a Taekwondo man, who have realized this truth, will see that knowing something is neither same as nor different from not knowing it after all, and will begin again always. There is no end to be seen there.