As a man gets some skills of Taekwondo with some experience of sparring he has a very general and universal mistake in his training. It is to use his force in his muscle than his skills. Let me explain this problem.
The more of sparring you have the more you want to surpass your opponent. What is the easiest way to get superiority in sparring? It is to get more powerful muscle and better speed in motion. So he, in most cases you, try to get more power in your muscle for victory in sparring.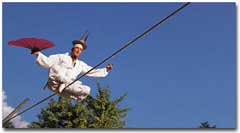 What is the matter with this fact? Please rethink of why you wanted to learn Taekwondo. We can talk of good personality or justice as the objective of Taekwondo training, but more directly, let me talk of the way to surpass your strong opponent. At first you might also have had a chance to begin body building. But you didn't or you've chosen learning Taekwondo with body building. Then, what do you think is something you can obtain more in Taekwondo rather than in body building?
The way of Taekwondo is the way of using your power most effectively. This is why a thin and small man can supress down a big and strong guy with Taekwondo. Only considering the muscle power it is impossible for a weak man to supress a strong guy. You've chosen the way of Taekwondo instead of muscle building, but if you still stick yourself to building muscles instead of the effective way of using force it would be a fundamental contradiction in your entire training.
In order to avoid this sort of fundamental contradiction you have to abandon your strong intention to win every sparring in training. Rather, you have to observe your and your opponent's motion and the whole change. Then you have to seek the way you've learned from Master. It means you have to abandon direct small benefit for the indirect big advantage. It can be a wise choice.
You have to remember the words of the first page of this site: "The skills of Taekwondo(Martial Arts) are the essence of fighting techniques, which can be summed up in "temperance'. The immense power of Taekwondo comes not from the strong muscles but from the temperateness of a good and exact pose. It is a never withering power." Yes, the 'temperance' is important also in your entire training. You have to want victory in sparring temperately, so that you try to surpass him sometimes yet just observe whole change allowing your defeat. It can be a good learning.
The skill of Taekwondo is composed of two kinds. One is a the power of structure, structure of man's body with physical principle. The other is the economicality of using a physical force against your opponent.
The power of structure corresponds to the pose in Taekwondo learning.
The economicality of force corresponds to the Kang-Yu in Taekwondo motion.
For more detailed comprehensive explanation you cannot but wait for "On Samjae and Kagn-Yu".