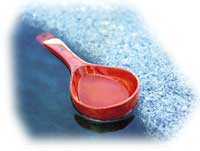 As a black belt you should focus on the harmony in your whole training.

You have to find unbalanced factor in your entire training. For an example, if you favor poomsae training you may need some more training of sparring, and vice versa. Usually, everyone's training can be easily biased to a certain disposition according to his own personality. You can find out your characteristics and sometimes the problems in your personality In Taekwondo in this manner. This is why Taekwondo can be helpful for your personality building.

And you have to balance training and another things of your life. It cannot be good if you should give up something important for TKD training only. If your job is TKD master you may be able to concentrate yourself on only TKD. But not everyone can be TKD master. If you have another job you should balance your daily life with TKD training. Even when you were a TKD master, you also should balance training with thinking, education and physical condition.

Without this harmony over everything you have to stop training sometimes and will lose your ability. As a beginner you need to go on hard training at first. But as a black belt this kind of attitude can destroy your body and life. You should be temperate in management of your TKD training. It is almost same to that you have to be temperate for the sake of more powerful skill.

And remember this for last.

There are three kinds of incomplete control in Taekwondo when you've gained it over your opponent; the first is that you get control only with power yet not with skill; the second is that you get control with power and skill yet not with excellence; the third is that you get control even with excellence yet failed with morality. When you fail to have him follow you with morality he will surely turn his back against you; when you fail to have him yield to you with excellence he will surely prepare for another challenge; and when you fail to control over him with skill you will be controled by him soon later.(Chapter 31 of PPT)

You should be just and morally right in what you do as a black belt of Taekwondo. Then you can control everyone without attack and defence. This is the ultimate essence of Taekwondo as a principle.