Album
---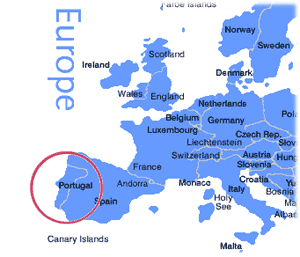 Introduction to Portugal
Portugal is an independent kingdom since 1143. Portugal established its continental frontiers in 1297 and is one of the oldest nations in Europe.

This beautiful country is situated on the west side of the Iberian Peninsula. Its geographic location is along the Atlantic coast soon determined its vocation to the sea. Refer to the map of left.

Recommanded Sites about Portugal


Portugal


Portugal in Site


Virtual Portugal


Welcome to Portugal
---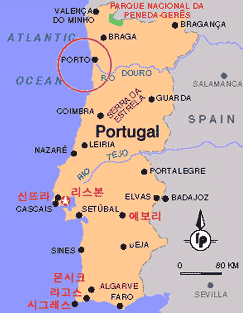 Porto(

About Porto)
Porto, the beautiful city of Portugal was the first town of TKD interchange with TaekwondoBible.com in 2001. Master Blue was invited to the TKD seminar in Porto by Fernando in his way to visit Spain in February 2001. So we could interchange TKD knowledge and trainings together for a week.
Porto is famous for its various kinds of good wine, produced around the river Douro. The TKD Master was Paulo in the city, teaching all the black belts of TKD of that area. He showed better than even many Korean TKD masters I've seen before, with sincere passion.
He also understood right away the new TKD knowledges that had bee developed recently. Many black belts, who learned TKD form him, were teaching TKD to their students, so TKD interested more and more people. I think he is better than usual Korean masters in many aspects.
Generally speaking, Porto showed good level of TKD. You can see the symbol of TKD school of Paulo in Porto. If you can see it, I submit you can trust the TKD master of the school.

Recommanded Sites about Porto


Porto 2001


Porto(written in portugueese)