---
---
Part II. PRINCIPLES
Chapter 13
Three Materials Harmonized to Change
"Why are there clouds in the sky?"
"... Why does the earth need rain?"
Control your opponent with Sool (¼ú[âú]), face yourself with Yae (¿¹[çÝ]) and maintain the whole by Do (µµ[Ô³]). Here is TAEKWONDO. When so enlightened you will put all of yourself in a state of change through swift footwork. You will be concealed beneath the naturalness of the world and will erase your opponent from your sight. At the same time, you should maintain yourself in a dark calm, with nothing disoriented, so that you become immutable to the world up to your non-being. This is to follow the way of Haneul (Heaven). On the other hand, when enlightened you can subdue the strong opponent with less power because rather than fighting it, you soak into the change he intends. You control him from within, so that his own changes act to destroy himself. That is, the opponent is destroyed by his own power. This is to follow the way of Tang (Earth). All of these are to be found in not losing yourself by always returning to your own position, which means following the way of Saram (Man). You can begin to follow these three ways by focusing your mind and banishing idle thoughts. The Sages have called the trio of Haneul, Tang, and Saram, the "Samjae" (Three Materials), and taught it as the foundation of all change. All the changes of Taekwondo arise from it and none can circumvent it.
The harmonious composition of Samjae - namely Haneul, Tang, and Saram - is change. However, since the Samjae is fundamentally whole, all changes occur within that oneness. For purposes of understanding, man commonly divides and distinguishes the Samjae, which results in nodes of change, i.e. rhythm. Every change has a temporal flow and the intervals between the nodes of that flow compose its rhythm. Rhythm is the formality that characterizing the flow of change.
By definition change implies that something is altered. The figures of such altering must possess nodes, intervals, and rhythm. Since man's action constitutes change it also necessarily contains rhythm. There can be no motion of man that does not contain rhythm. When practicing Taekwondo, however, it is not possible to exclude all rhythm in one's motions. One can overcome the rhythm of one's regular motion.
On the other hand, your motion is an external expression of inner change; otherwise that motion would not belong to you. Therefore, you must capture all the changes within your opponent in order to catch the rhythm in his motion.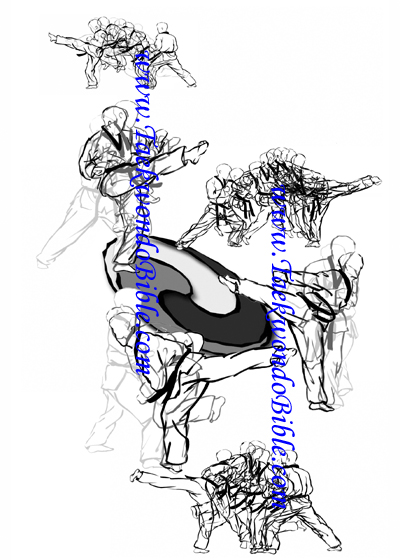 ---
---