Chapter 2 of PPT concerns what is the distinctive essence of taekwondo. It is directly related to the definition of taekwondo. Here I intend to accept the actual characteristics of taekwondo, which has been dismissed by many martial artists. It is that taekwondo is a fighting skills and thus it is intended to kill man yet not save life. Reflect what we practice in daily exercise. We kick, punch and hit some thing or some imaginary opponent. Masters teach us how to attack your opponent and how to defend his attack. So I say, taekwondo is essentially not in technique of rescuing man¡¯s life but in that of killing man.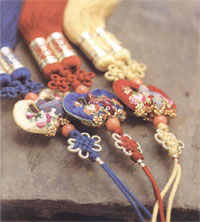 However we all know every one says killing is not good, further, worse than rescuing and growing man. Why do we have to learn taekwondo? ? This is the naturally accompanying question. My answer is that it is only from man¡¯s viewpoint to say this is good while that is bad. From the point of the objective nature there can be nothing good nor bad. In addition to that I have to note the fact that something bad can be useful in some extraordinary situation and vice versa. For instance, a sharp knife is good thing but it is really bad when it is in the hand of a thief. And we can think of the opposite example easily. When I say it is only from man¡¯s viewpoint to say this is good while that is bad I mean there is nothing permanently good or bad regardless concrete situation it is situated, considering all these cases.
Let me reflect on the meaning flow of chapter 2. There are two points of the first paragraph of chapter 2 The first point is related to a question why we have to know taekwondo. If it were a good way why do we have to learn the good way? There can be two meanings of a way, a method or an ought. The former is a way like better skill or method to get something I want, while the latter refers to the way like morals or ethics, for example, what do I have to want for me. In the tradition of analytic philosophy they have said the fact should be discerned from the value. A great England philosopher of common sense, G.E. Moore formalized ¡°naturalistic fallacy¡± along the way of David Hume. Since then, especially the philosophers of meta-ethics seeked how we can prove the existence of objective ought in logical way. These disputes spring from the presupposition that every proposition should be correspond to the actual fact for itself, so that we can know whether it is true or false, in which the man is forgot, who recognize the truth of a proposition and recognizes the fact along his aim. The ethics concerns one¡¯s aim whether his aim is good or bad. Considering the way of taekwondo we cannot dismiss the subject who does taekwnodo. So we cannot but see the man who know factual knowledge with his ethical objective. Especially in a behavior or an action of a man we come to find both at once, because the existence of the action is a fact while the action, as long as it is someone¡¯s action, intends some objective. Though it is difficult to explain every detailed considered aspects about it I wish you can understand the rational foundation of saying; TAEKWNODO includes the value and fact in one.
In the second paragraph I explain the literal meaning of taekwondo along the somewhat analytical way. Here my focus is posed on the distinctive feature of taekwondo, that it is system of fighting or killing skills. In the third paragraph some justification of why we should accept this kind of dark side of life is given, as I¡¯ve suggested already above.
In the forth paragraph, I add some more explanation about why we should admit taekwondo is a system of killing skills. Then we come to think of the life itself naturally. I continue this discourse in the last paragraph commenting the relation of taekwondo and life.