"Ki" is an important concept in Korean traditional philosophy.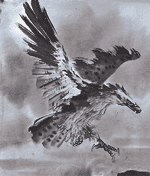 In the confusionistic philosophy of Chosun period of Korean hisotyr(400-500 years ago) the concept of "Ki" appeared in the main flow of Korean traditional philosophy, with the coupled one of "Ri". We call it "Ri-Ki philosophy". Let me introduce the concepts of Ri and Ki.
They are originally metaphisical concepts, but they can be intuitionally so evident as another ones of western philosophy. They have said "when(for example) a bird flaps its wings, the very flapping is "Ki" and the reason why it flaps is "Ri"". And the philosophers of that time have thought that every beings in the universe can be explained in the system based on the couple of Ri and Ki.
In 19 centuries, the scientific flow also overwhelmed the oriental area including Korea from Europe, and almost everything was influenced by the flow. These days, the concept "Ki" appeared again at the end of scientific flow and its limits. But scientific research has its own strong merit; objectivity. It means the possible problem of the careless concept of "Ki".
Many of the Ki concepts used are mysterious and, in some cases, even absurd. I'm also very careful of using the Ki concept against its abuse of anothers. You cannot find the term "Ki" in PPT either. In spite of all these problems the Ki exist, I think, and it is worth investigating it reasonably.
So I want to help you with some advises. But the following are not assured ones. You should reflect it and I recommand you go on investigating following your experience in TKD and your reason. See the next explains; 1, 2, 3.