Home

Taekwondo Bible Vol.1


Preface to the English ver.


Introduction

---
---
Part II. PRINCIPLES
Chapter 10
Thinking with All of My Being
"Though I have learned techniques, why can I not use them?"
"Why is it people are not good though they know they should be?"
To practice Taekwondo is not to think only with the mind but to think with the whole body. That is, your motion will be thought itself. Taekwondo must become thinking with the body, and cease being thought only with ideas and their representations, which are merely the operation of concepts separated from reality. When and how do you think with all of yourself? Only after you erase yourself, discarding your thoughts, can you finally think not only with your mind but with everything of yourself. Then you can integrate idea and reality. The Taekwondo-Een's mind at this moment will be Mu Nyom Mu Sang (freedom from all ideas and thoughts), which is conscious both of all and of nothing.
The Mu Nyom Mu Sang of Taekwondo is both the same as and different from that of Zen17) or other such meditation. While the Mu Nyom Mu Sang of Zen or meditation may describe a transcendental consciousness attained through deleting every thought each by each in an atmosphere of calm and tranquil repose, that of Taekwondo is what can be obtained through expanding thoughts in intense motion, i.e. in a condensation of life within a moment. When you feel everything at last so that your consciousness reaches the non-distinctive whole and the mediating consciousness of your behavior is no longer confined to the activities of the mind but fully enlarged onto your whole body and even onto your whole life then your mind can be settled in firm tranquility, which is the very Mu Nyeom Mu Sang of Taekwondo. It is to transcend to the inside of life, not out of life, so it is a positive transcendence. It is, however, the same as Zen or meditation in its quality, so it is not altogether different.
When you think with all of yourself your mind is emptied in tranquility with every part of your body awakened to dialogue with the world. Since Taekwondo is such, by learning Taekwondo you will learn how to think with all of yourself with the world. That is, you will learn how to become your thought itself. To begin and end this learning is to delete idle thought, concentrating your mind into one. Therefore, correct Taekwondo is nothing more or less than the expression of the changes of the mind in motion. To have your motion, which is an expression of your mind, harmonized with Nature is what allows you to perform the best motion possible.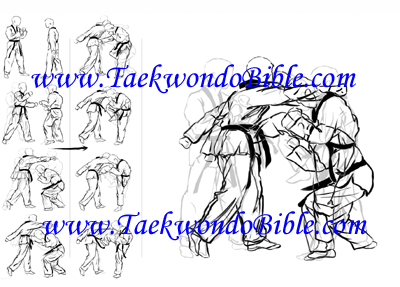 ---
<footnotes>
17) Zen refers to the concept of ¼±[àÉ], and Koreans have a similar concept to this: Seon. But we can distinguish them as follows: Zen is meditation only in calmness attained in stability, while Seon includes both a stable and dynamic nature. Thus, Koreans emphasize meditation in life in the usual motions. Therefore, we can sum up by saying that whenever Mu Nyeom Mu Sang appears in dynamic motion or in tranquil meditation (Zen), it denotes Seon. Seon is the name of Zen extended to the whole life of man. (Japanese Zen Buddhism was originally transmitted from Korean Buddhism, though the former has become far more familiar in the West.)
---
---