To See Ap Chagi in Movie file
---
The key point of ap-chagi is on how to produce its power and speed at once.
Its main key point is that you should fold in your kicking leg before final kick and spread it with your movement of your waist.
You can see an example of ap-chagi. If you try to draw a line of his kicking feet you can realize its movement is quite straight. Of course, it is not ideal straight line, but it intends and immitates it successfully. (See the right picture.)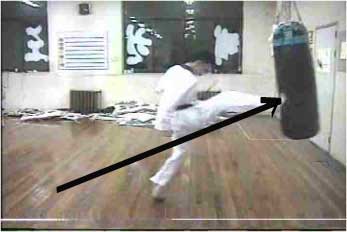 The most important part of the whole process is the third one in the pictures. And in it, the hight of the knee.
In this picture, it seems to be not so high, but actually you should practice to lift it high for this kick. You should remember that every motion comes to be vague and common in speedy motion like that of actual case, so you should build correct pose and sharpen its distinct factors in practice. Otherwise, you will come to kick bad way, so that you intend to kick yet fail to kick up, not forward.
This is one point of distinctness of Apchagi, and "there are three points you have to keep in your mind doing the practice of basic motions; distinctness, accordance and stableness."(PPT Ch.55) And distinctness is the way of Haneul.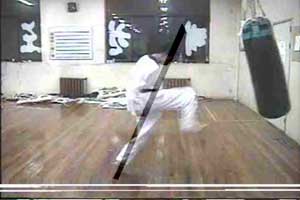 And the other thing you have to consider is that you should destroy your balance in kicking. See the right picture. You can see that the kicker is not balanced yet he is falling forward before kick. It can make a big and efficient power. "A motion can be obtained only when a balance collapses to show out its possibility and the balance in its collapse always leads to another balance. If you cannot control this balance you cannot get massive in your control over your opponent and cannot get the power in your attack, and the world will not help you control your body even though you try."(PPT Ch.22)
If you see the whole motion in a movie you will be able to see the kicker moves naturally forward kicking.
You can see a movie file of ap-chagi here.(

)