The essence of basic kicks can be summed up in simple clause: (1) you should lift or kick your one knee up (2) with you hip low down. This page will explain the principle in detail with photos.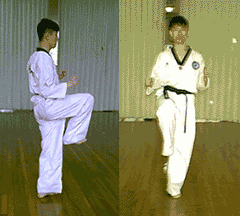 The most common bad pose is like the right pic. Here he stands high with his knee low. I mean his hip is high with his knee low. It is obvious why beginners usually practice kicking in this way.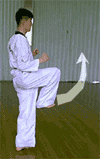 It is easy: Not hard. But in this case you can allow your opponent's unexpected counterattack on your stomack by, for an example, a side kick.
And another, you cannot kick straight forward by this pose. Consider man's articulation structure. When you kick you will spread your knee, and you will come to kick up so that it is easy for him to avoid your kick with slight step back. In addition to that, almost every beginner has strong dispostion to lift his knee up during kicking, which will lead your kick more upward to be shorder. It is why he lift his kee up that he thinks his kick will be low to kick his opponent's trunk. The left pic shows an example of kicking direction.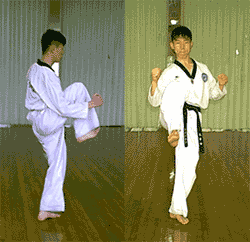 The better pose would be shown in the left pic. He lift his knee up close to his chest. His foot is higher.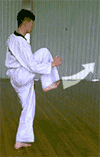 Then he can kick to the direction of the right pic. And here, he will feel hard to keep this high knee so he will come to drop his knee slightly, then the articulation structure will help him to kick a little more far forward.
And you will hide your stomach and chest with your leg. It can be a sort of defense blocking an unexpected kick at your stomach.
But this pose is not the best one. Since he's lift his one knee very high he made a empty or blind part on his supporting leg. He doesn't have a firm balance. When his opponent attacked on his supporting leg with low kick it would be critical. And this is why you should drop your hip low.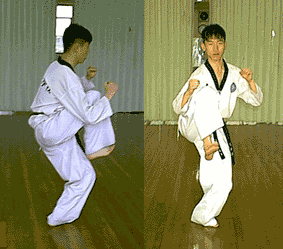 So the next pic shows the better pose, which is the best among the basics: high knee with low hip. Here, if you were a beginner, you should not bend your upper body down. In most case, according to my experience, beginners don't(rather cannot) lift their knees high up but bend down their upper body to make the knees close to chests. Each bad pose has its own reason why you should not make it, so I can tell you everything, but not now. If you have much things to think of it will disturb your training rather.
If you were in the right pose of pre-kicking, you will be endure an unexpected attack on your supporting leg, since you are straining your muscles on the leg. You will find a chance to attack him before you fall down by it.
And another implication of low pose. You can keep low pose during a kick so you can delete an excresent standing up before every kick. If you stand up before you kick every time your opponent will recognize your kick when you stand up befor kick. If you see an actual example it would be easy to understand its importance and its actual efficiency though you might think it must be only theoretical analysis, particularly when you cannot find anyone who can such a gook and simple kick without standing. With this clean and simple kick you can realize it is true that even if you move slow your opponent cannot avoid your attack in spite of his hurrying up.