You have to remember the following principles to be a high level Taekwondo man as fast as possible.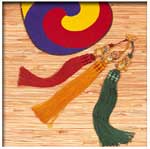 1. As a beginner, you can increase your level only through repetition of poses and motions. Especially when you don't have much experience of another kind of sports, the repetition determines all of the development in your practices.
Why? A good skill needs your controlability over every part in your motion of a moment, but you don't have it. It is difficult for everyone to control every part of his quick motion of a moment. So you should make your own practiced way of the motion and correct it little by little. And you need repetition to make your practiced way of a motion at first, and then to correct it to an exact one at second. Only after you've got your skilled motion, you can control it even in a moment. Remember, you cannot develope your Taekwondo with no time, no sweat and no pain.
2. The exact pose and motion is also very important. And the earlier the better. Usually, once you've been accustomed to a particular motion, especially to a bad one, it is really hard to correct it. The most important ones are the basics. Basic poses and basic skills. Thus you have to try your best to meet good master at first. If he is a good master, he should be able to explain every reason of the basic pose or able to prove it in his motion. Remember, if one is good, it also has good reasons why it is good, even if you cannot understand at a first sight. You can find those reasons of exact poses here in training part in this site.
(Caution : What a basic is like is determined by what the whole system is like. So you might find some differences between what you learned from your good master and what I'm explaining here. That is not difference in its essencel. You should understand the same harmony of both.)
3. An exact good pose and motion has some features. First, it is simple. it means it has no precaution, no unnecessary movements. It is really hard to delete those unnecessary movements at first and harder later but your master will help you.
Second, it is natural. Thus, it never hurts nor injures your body however much you practice it. If you are a beginner, you may feel some uncomfortables in an exact pose or motion, but as time passes on, to say precisely, at most before you get black belt, you can feel it. It is due to that an exact good pose or motion of Taekwondo is harmonized with structure of man's body.
4. The good and exact basic trainings are always hard. It increases your power very fast and very much, which requires your pain. Only under a condition that it never hurts your body essentially. If you find big difference in its hardness between two similar motions or poses, you'd better practice the harder one. Usually, the exactness in Taekwondo's skill leads you to the hardness. Remember, only when you exercise harder than your opponent, you can get control over him.
5. The last one. A good and exact basic training bores you very much. You should be able to enjoy the boringness in order to be high level Taekwondo man earlier. It is painful. Very hard to continue. But it also leads you to real strongness both in your body and in your spirit, and to the essential meaning of your life. (You can read its implication in a poem.)