To see this training in movie file
---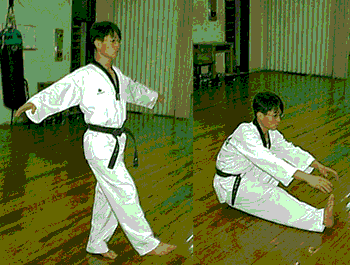 This training is really basic of Taekwondo. In Taekwondo you are required to support your whole body with your one leg in any pose. For that, you should be able to sit down and stand up with only one leg. It seems easy at first, but you will realize that it is hard right away if you try.
This training is simple but it needs some explanation. At first you may feel much difficult to balance your body sitting down and standin up. If you cannot you may resist on the wall or some bar with one hand and continue.
If you get some more power on your muscles of legs you will be able to try without help.
You'd better open two arms wide stand up and close them in front of your chest sitting down. It would be helpful for your balance. And try to move calmly. Breath in sitting down and breath out standing up. Later, you can breath in sitting down and breath in more again standing up too. It seems strainge but it is true.
This training also grows your basic balance too. The more you can try this training the better it would be. And you should be able to do this motion at least 10 times for each leg.
The following pic shows each process of sitting down and standing up on one leg.

It is best to move sitting down and standing up as calm as possible accoriding to your breath. The point is that you should breath in when you sit down and breath in again when you stand up next. It may sound strange, but it is actual truth.
You should be able to repeat sitting down and standing up 10 times for each leg, basically.
If it were too hard for you at first you may rely on a wall of the room or on some help of your collegue.
---

To see this training in movie file