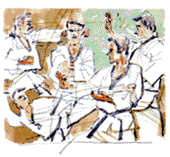 Yaksok Kyorugi is the patternized sparring.
You should see two focuses in this statement: 1) Yaksok kyorugi is sparring, and 2) it is patternized.
<1> Yaksok Kyorugi is sparring.
Yaksok Kyorugi is sparring. So it should be understood from this point of view. You should try to understand each pattern of Yaksok Kyorugi with thought why the attacker attacks this way, and why the defender chooses this method of defence. It means, you should not just follow the patterns; the motion only. Instead you should search and trace its reasonable tactics and strategies.
<2> Yaksok kyorugi is patternized.
Yaksok kyorugi is patternized. Why should we practice this patternized attack and defence? For everybody attacks and defenses with patternized motion. It is not easy, or rather, very difficult to move unpatternized way. Even in Jayu Kyorugi(free style) everyone comes to move patternized way. Some people or many people sometimes get out of this patternized way. In that case, they don't move out of the patternized way but they fail to control their motion. Here, we can see the importance of pattern, and that of form in control of our motion.