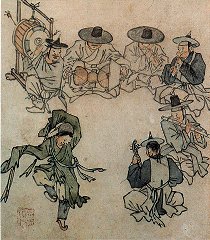 Technical meaning of Ditgi is firstly controlling distance. (I recommand you refer to Ch. 6-9-1 of SJKY for understanding of the distance in Taekwondo.) Of course, you should read Ch.20 of Taekwondo Bible.
Beginners has strong disposition for blind attack and blink defense. So they fail in their harsh attack and strong defense. Most of their power is useless. Controlling distance makes up this point, and its particular technique is Ditgi.
Ditgi itself can be seen as just walking. But in its inside, there are many things. Firstly you should be ready for attack always. And then you should face your opponent always. Thirdly, you should make some change in your movement. These are the inner factors of that mere-seeming-walking.
For beginner, technique is not in visible motion, but in understanding.