What you have to learn in Taekwondo training is how to make a fist with your hand. To know how to make a fist is to know it exactly and the reason why. And then, you should add your training of your body.
The exact and right method of making a fist is like the following picture.

This method should be compared the next, that of common man who don't know Taekwondo.

The difference of both can be explained referring to the loose room in his fist.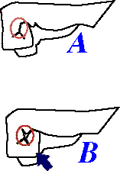 Look at the right drawing. This drawing shows the difference explicitly. <A> is good while <B> is bad. The red circles on the fist compare the rooms in the fists.
Then what is the problem in the small room in the fists? First problem is that it diminishes the power of your punching. The second is that it can injure your hand. The blue arrow points to the part joint which will be injured when you hit something with bad fist.
The more important thing; the good method will give you good weapon in your fist always. Look at the following picture below and consider the case that you hit something before or during your making fist. Both the open hand and the half open hand can be used to pierce or to strike it.

However, what about the first state of your hand in the second picture? The half open hand cannot be used as a good weapon.
For the reason of no injure and of big power, some gangster grip some small and hard thing in his fist before fight.
For last, one thing very important yet often ignored is that you should keep your fist without particular exception. This means, you should not repeat losing and remaking your fist during exercise. Especially when you have much sweat on your fist.
This bad habit will injure your hand, and destroy your Taekwondo.
---

How to harden fists reasonably