Introduction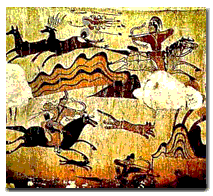 This writing <Martialims> is a philosophical articles of the general martiality. The concept "Martiality" is called "Mu(Ùë)" in Korean and it includes not only the martial arts but also the military.
Compared with the concept of sport in Western area, the oriental developed the concept of Martiality pararelled with that of Literality(Ùþ), which is called "Mun" in Korea. Here, the martiality is different from the sport in that it is not for entertainment yet for sincere meaning of life. It is also distinguished in that the martiality itself contains the spiritual aspect as its essence and it includes more wide aspects of man's life; the military factors.
The oriental people have emphasized the balance of both the martiality and the literality. One can complete his personality with the balance of both. Thus, the martiality is always coupled with the literality in orietalism. To be exact, it would be better to say that each of the martiality and the literality is another aspect of man's spirit and activity.(In orientalism, the spirit cannot be detached from the activity.) In fact, everything was conceived as a part of one as whole or as another aspect of the whole.
This article "Martialism" reflects the concept of the martiality in philosophical consideration to get wide understanding on Mu. And I will produce the somewhat abstact definition of the martiality(Mu) compared with the literality(Mun). Those thinking will be helpful for us to understand the paradigme under the Taekwondo philosophy distinctively and we will get new insights from Taekwondo for the progress in the physical education. For those who are interested only or mainly in Taekwondo, the critical advices from the profound insights will also be given, I hope.