Chapter 8.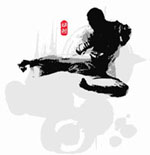 Facing Opponent
"Why do I have to be courteous?"
"Isn't it beautiful?".
Then, what is the meaning of opponent in Taekwondo? The opponent whom you face in Taekwondo is the simplified world which represents intensively the whole world that you cannot avoid facing in your life. Knowing these facts you can understand the reason why principles of Taekwondo, which come from the conflictive situation between you and your opponent, can also be applied to all different cases. It is because no matter in what kind of situation you might be everything is to be determined in the relation between you and the world. Such relation of you and your opponent you face in Taekwondo has both social and natural aspects, too.
Whatever the meaning of opponent in Taekwondo may be he must be a man at first. It means, Taekwondo has its root essentially in relations between men. Thus Taekwondo stops being Taekwondo when opponent is ignored or dismissed. This makes you as a true Taekwondo man accept your opponent. TAEKWONDO includes acceptance of opponent, which implies that Taekwondo man acknowledges him as a person and respects him. Therefore, Taekwondo contains etiquettes necessarily. It's essential. It is profound and mysterious that the essence of Taekwondo has both the etiquette of acknowledging the opponent with respect and the conflict of beating him, and that those different extremities are correlated into one. It is, however, rather natural that everything of the world also has this form.
Etiquette is something that makes man manlike and man's affairs valuable. Therefore, the right manner in everything is not contrary to its utility. This is the feature of man's affair. Thus the right etiquette can be a good weapon to protect yourself conquering the deep inside of your opponent's mind. If you ignore etiquette you can be surpassed by a right Taekwondo man at any time. On the other hand, if you keep yourself courteous to the strong it will be enough for you to save yourself while if you keep yourself courteous also to the weak it will be sufficient for you to gain respects from others, which shows how TAEKWONDO is coherent with etiquette.
Then, what is etiquette? It's good expression of what man intends in right way. But since it is not the essence of Taekwondo Taekwondo man transcends it at last, which just means that he is unrestricted by etiquette, yet not that he denies etiquette. Neither is it that he gets out of etiquette, yet does it mean that each action accords with etiquette in spite of forgetting it. This implies that right etiquette is not fixed but alive. Of Nature and (etiquette) of man are same with each other despite of their different names.
So social as such is the relations between you and your opponent in Taekwondo, however, they are also natural at the same time, and all of these facts are due to that foundation of man's life cannot be something else out of the order of Nature. Thus the relation of you and your opponent is always settled as concrete in the world. You and your opponent share the world and are restricted by it. In such restrictions of the world the extreme relation settled by TAEKWONDO brings you and your opponent directly to the bare figure of everything over the walls of all illusions, and even over the distinction of imagination and reality. Thus there can be no falsity in Taekwondo.
You come to know the world in direct contact with the Nature as it is and recognize man's life with no error in this manner of Taekwondo. It is nondistinctive. For Nature itself distinguishes nothing but exists as it is. Then you, a Taekwondo man, constitute the world that is the object of recognition, and in this way you share <Do> in you as the laws and the principles that make the world as it is.