3-11. Rightness
To follow the way of Haneul is totally to follow the rightness. Why is it important to follow the way of Haneul? It was said, ¡°<Do> of heaven and earth shows itself as giving forth; <Do> of the sun and moon clarifies itself in direct way; all the movements under the sky are constantly subject to this straight and right one."1) Therefore, following this movement of the Nature, you can follow its One right way, so you can be helped by all of them. This is why you should follow the way of Haneul.
It is called ¡°Kyeong(Ì×)¡± the key point of mind to follow the rightness like this. If you behave along the rightness you don't have to think many things. For the right things have no wrong ones. Therefore, you can do everything just following the right way. That is to say, just following the right way results in blockading every possibility of the opponent's offence and interrupting his attack. And, just because you follow the right way, you come to avoid his strong part attacking his weak point with techniques that change by itself according to his motion. This is doing everything by doing nothing.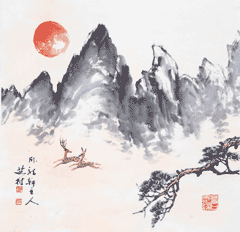 <All the movements under the sky are constantly subject to this straight and right one: Korean traditional painting.>
This is such not only in techniques of Taekwondo. Keeping your life along the right way reduce conflicts with others. Thus, with your life filled with training your enemy cannot dare to defeat you. So you can get victory before your technique. This is also accomplishing everything along the right way. Therefore ¡°he who drinks in the law lives happily with a serene mind. He ever rejoices with his mind clean.¡±2) Likewise following the right way bring you everything accomplished by itself you can enjoy serene mind. Sun Tzu also said, ¡°for to win one hundred victories in one hundred battles is not the acme of skill. To subdue the enemy without fighting is the supreme excellence,¡±3) which implies same thing.
Accordingly, inherently ¡°the best victory for you as a true Taekwondo man is not to make proud of only yourself over your opponent defeated. The victory, in which you and he can coexist, is the best one.¡±(Ch.16) To the contrary ¡°to look fierce, putting your hand on your sword and say, "How dare he oppose me!" is to show the valour of a common fellow which is of use only against a single adversary.¡±4) Emotion going ahead without rightness this valour of common fellow drives you. Therefore, everything is futile without rightness. Only following the right way you and your opponent can coexist, so ¡°It is verily in the coexistence of you and him that you can find the eternal victory of Taekwondo as unseen.¡±(Ch.39)
---
<footnotes>
1) APPENDIX III, Section II, Chapter I, 6: ô¸ò¢ñýÔ³, ïöκíºå¥, ìíêÅñýÔ³, ïöÙ¥íºå¥, ô¸ù»ñýÔÑ, ïöÜýìéíºå¥.
2) ¹ý±¸°æ 79. ýìÛöèÂäÌ ãýæíëòôè.
3) Sun Tsu, The Art of War, ÙÇÍôø¹ð¯ß², ãÀͺÛÝîúÛÝã­, Þªà¼ñýà¼íºå¥; ÝÕîúì»ÏÝìÑñýܲ, à¼ñýà¼íºå¥.
4) Mencius, Book I, Part B. 3.