8-4. Mental Principles
"What should the mind of Taekwondo man who moves together with the opponent be like? Do not hesitate at first. Empty your mind and decide definitely. And delete the decision and follow at the end."(Ch.23) Therefore, no hesitation, no stop and no restriction; these three are the mental principles that rule Taekwondo techniques.
Only with no hesitation you can get along the way of Samjae. Thus you can move in simple motion, and so you can be in time though you don't hurry up. For this, you should follow the way of Tang; deceiving yourself. What do you hesitate? You hesitate whether to attack or defend. When you think of attack you hesitate whether you should attack now or wait seeking another blind point. In attack you hesitate up or down to hit. The nature in all these hesitations is worry whether you can control over your opponent or not. Therefore, Sun Tsu said, "Thus it is that in war the victorious strategist only seeks battle after the victory has been won, whereas he who is destined to defeat first fights and afterwards looks for victory."1) As far as you cannot erase this worry you cannot help being the man who looks for victory after he began the war. What enables you to erase the worry is training. You have to seek battle after the victory, in this way, you should delete hesitation.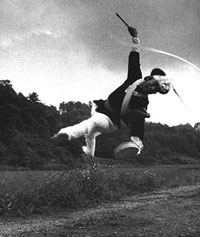 Stop hesitation, and read the rhythm of the whole change.
Also, you can continue the flow of Kang-Yu and Heosil only with no stop. Hence you can keep your tide of offense and defense, catching your opponent's blind point. What is the reason you stop? Because you cling to something. You cling to force; you cling to your technique, and cling to victory. In all of them the true subject that clings is your fear. The fear leads you to attachment for victory, and the attachment leads you to attachment for technique, which force you to cling to force. Thus you come to stop flow of your techniques. After all, you cannot get what you cling to in spite of your attachment. Hence Chuang Tsu said; "Do not be an embodier of fame; do not be a storehouse of schemes; do not be an undertaker of projects; do not be a proprietor of wisdom. Embody to the fullest what has no end and wander where there is no trail. Hold on to all that you have received from Heaven but do not think you have gotten anything, and just empty."2) In the same manner, don't be an embodier of techniques, don't be a storehouse of force and don't be an undertaker of victory. And then abandon your all attachment. You can make it to abandon attachment only when you understand not technique yet skill, thus Samjae and Ilgiyae.
And, you can get the Ilgiyae only when you are not restricted. And so, you can reach not its form yet its essence, you can hit not the opponent's branch yet his center, and in this way, you can be free from his trick. What restricts you? The visible restrict you; his form restricts you; your own scheme restricts you. In this course both of what is restricted in truth and what restricts it are yourself. It is that your wanting to do something is under restriction of what you want to do. Therefore, the Diamond Sutra teach us, "the basis of Tathagata's attainment of the Consummation of Incomparable Enlightenment is wholly beyond; it is neither real nor unreal"3) You can overcome this restriction only when you understand that what you want to do is in truth neither full nor empty, living free from worldly cares. You can obtain this in self-discipline.
---
<footnotes>
1) Sun Tsu, The Art of War, û¡ø¹ð¯ÞÌ: ãÀͺã­Ü²à»ã­ì»ý­Ï´îú, ø¨Ü²à»îúì»ý­Ï´ã­.
2) Chuang Tsu, ÀÀÁ¦¿Õ 6, ÙéêÓÙ£ã¹,ÙéêÓÙÇݤ.,ÙéêÓÞÀìò,ÙéêÓò±ñ«. ô÷ò×ÙéÏã,ì»ë´Ùéòù.,ò×Ðìá¶áôûºô¸,ì»Ùé̸Ôð,æ²úÈì»ì«.
3) Diamond Sutra, 17d. åýÕÎá¶Ôðä¹ ÒýÔþß² ß²ÜÌð« åÚãÀñé ÙíãùÙíúÈ.