Chapter 13.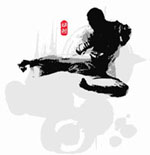 Three Materials Harmonized to Change
"For what is there clouds in the sky?"
"... For what does the earth need rain?"
Control your opponent with Sool(

), face yourself with Yae(

) and get the whole along Do(

), and it is TAEKWONDO. Thus you, when enlightened, put all of yours in a change through swift footwork hiding under naturality of the world and erases your opponent in your sight. At the same time, you should keep everything of yours in the calmness like darkness with nothing disheveled, so that you put yourself in immutability of the world up to your nonbeing, which refers to following the way of Haneul(Heaven), stated in the foregoing. On the other hand, you, when enlightened, can get supremacy over the strong opponent with less power because you soak into the change he intends, not fighting it, yet controlling it from inside, so that his own changes destroy himself. That is, he is destroyed by his own power, which is the following the way of Tang(Earth). All of these are to be found in the not losing yourself with coming back to your own position, which means the very following the way of Saram(Man). You can begin these three kinds of following in concentration of your mind into one with no idle thought. The sages have called the three of Haneul(Heaven), Tang(Earth) and Saram(Man) "Samjae(Three Essential Materials)"1) and taught it as foundation of every change. All the changes of Taekwondo come from around it and none of them can go over it.
The harmonious composition of Samjae, namely Haneul, Tang, and Saram is change, however, since the Samjae is originally only one all changes are same as one. But man commonly divides and distinguishes it for cognition, which results in nodes of change, i.e. "Rhythm". Rhythm is formality that characterizes the flow of a change. Every change has temporal flow and intervals between nodes of a flowing change compose its rhythm.
Every change implies that something is altered anyhow. And the figures of the altering cannot but have nodes and intervals. Therefore, since man's action belongs to a change it also necessarily contains rhythm. There cannot be a man's motion that has no rhythm or that is beyond rhythm anyhow. It is possible for you, when doing Taekwondo, not to exclude all kinds of rhythm in your motion but only to overcome the rhythm of your usual regular motion.
On the other hand, your motion is outer expression of all changes from inside of yourself, and otherwise, it would not be your own. Therefore, you must catch all changes from inside of your opponent in order to catch the rhythm in his motion.
---
<footnotes>
1) "Samjae" refers to the three factors of sky, earth and man in the traditional oriental philosophy. In the term "Samjae", which comes from the Korean pronunciation, 'Sam' means Three while 'Jae' means Materials. The concetp of Samjae is said to be composed of Three factors but it must not be understood as such composite thing. It refers only a thing ultimately though it has three aspects. It is why I don't use "Three Essential Materials" but "Samjae". It's detailed explanation is suggested in Ch. 2-2 of On Samjae and Kang-Yu.